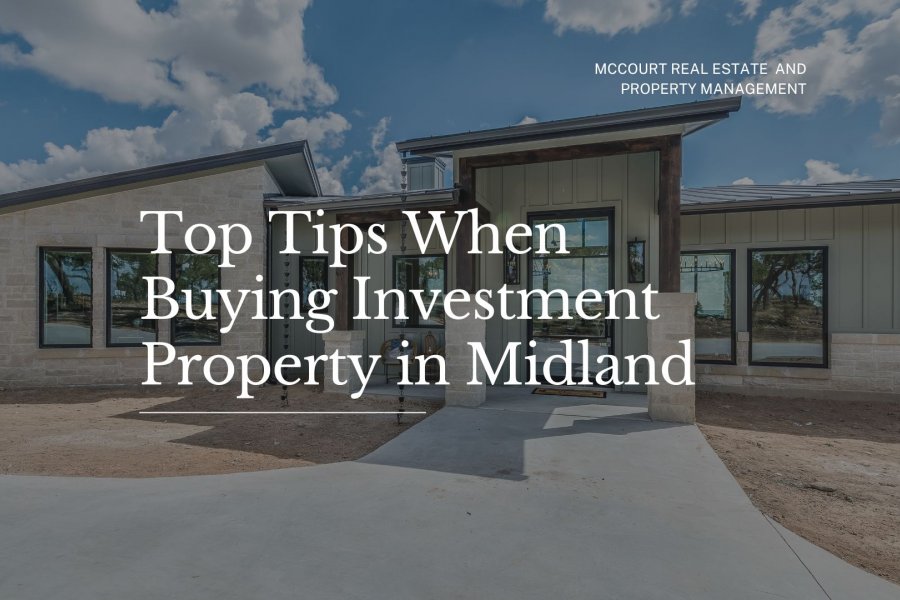 Although investing in real estate is one of the most common ways to generate income and long-term wealth, real estate can be challenging to manage. There are many things to think about and a lot of resources are at stake.
With all this in mind, Midland, Texas has a lot to offer for investors seeking a great location for investment. Midland's expanding economy, vibrant nightlife, and many job opportunities in a wide range of professions are all great reasons to invest in Midland. Additionally, local living expenses are lower than the national average.
But if you're just getting started, it helps to listen to expert advice on how to maximize your investment in a Midland property. So, in this article, we at McCourt Real Estate and Property Management will discuss the benefits of owning an investment property in Midland, Texas and how to make the highest return on your investment.
Crunch the Numbers
Having stable finances is essential for a successful real estate purchase and the same applies when purchasing an investment property. You should research all the costs and procedures involved in buying an investment property so you are properly prepared. This includes setting budgets for purchase and maintenance.
When purchasing any property, there are various financial requirements and application procedures. The property's location, climate, and whether or not you'll rent the property long or short term, can all be decided after you meet the financial requirements.
Unless you're paying cash, your first challenge will be getting a mortgage. Lenders may have a variety of criteria for down payments for a first house, but much more rigid guidelines will apply to investment properties. So, it's best to contact lenders and banks to check their rates.
Invest in the Right Neighborhoods
When purchasing an investment property, choosing the right location is crucial when maximizing your return on investment.
Consider what a potential renter might want in a property by putting yourself in their position. The property will be more appealing to a tenant if it has easy access to shops, restaurants, public transportation, and other facilities that are a part of people's daily lives.
If there are major infrastructure projects in the area, this could raise the value and appeal of the investment property. In a broader sense, a neighborhood's safety and atmosphere are crucial considerations when assessing its growth potential.
Thankfully, Midland has a variety of different properties in different neighborhoods that appeal to many different investors.
Understand the Local Market
As an investor, you should research the Midland market. This will enable you to estimate the rate of appreciation of your investment property's value and understand how the market values of various properties can change.
Take into account the features that make the areas in Midland popular. This can include public transportation, parks, and accessibility to excellent public schools or workplaces.
Researching the Midland market also involves learning how much you will have to pay in taxes, bills, and mortgage payments. As well as learning about the predicted expansion of the local housing market.
Note the Property's Age
The need for maintenance is dependent on the age of the property and also the level of maintenance of the previous owner. So, the property's age is a key variable that will influence whether or not your investment in real estate will be feasible.
We advise that you call in a home inspector before you buy any Midland property. They will be able to perform a thorough assessment and advise you on any renovations or repair work needed to maximize your investment property.
Boost Your Property's Appeal
If you're investing in Midland real estate with the goal of renting, you need to understand what potential tenants in the area are looking for.
For example, are they looking for an extra bedroom? Strong Wi-Fi? Security? Or an open-plan concept with island kitchen and bar?
Having features like these will make your property stand out and also increase its demand. With high demand, you will be able to charge higher than the normal market value. So, before you purchase a property you should consider what a tenant wants, keeping you ahead of the competition.
Hire a Property Management Company
When looking for an investment property in Midland, many investors decide to go it alone. But having a property manager at your side to assist in your investment property purchase is invaluable.
So, when considering this, you want to select a property manager who knows the Midland area like the back of their hand. This is why, at McCourt Real Estate and Property Management, we have worked hard to become such a company!
Want Help Investing in Midland Real Estate?
In a Nutshell: Real Estate Investing Tips in Midland
Understanding tenant and landlord legislation, leasing, financing, and property management are prerequisites for successfully investing in rental property. But investing in Midland property is less stressful and risky when you have a seasoned, reliable team of professionals by your side.
At McCourt Real Estate and Property Management, we can create a tailored and personalized property management plan that can support you in making great investment choices.
We can ensure that your returns will be maximized with the help of our stress-free property management services. We have the knowledge, experience, and skills to make the process of leasing, purchasing, or managing a Midland property successful and stress-free.