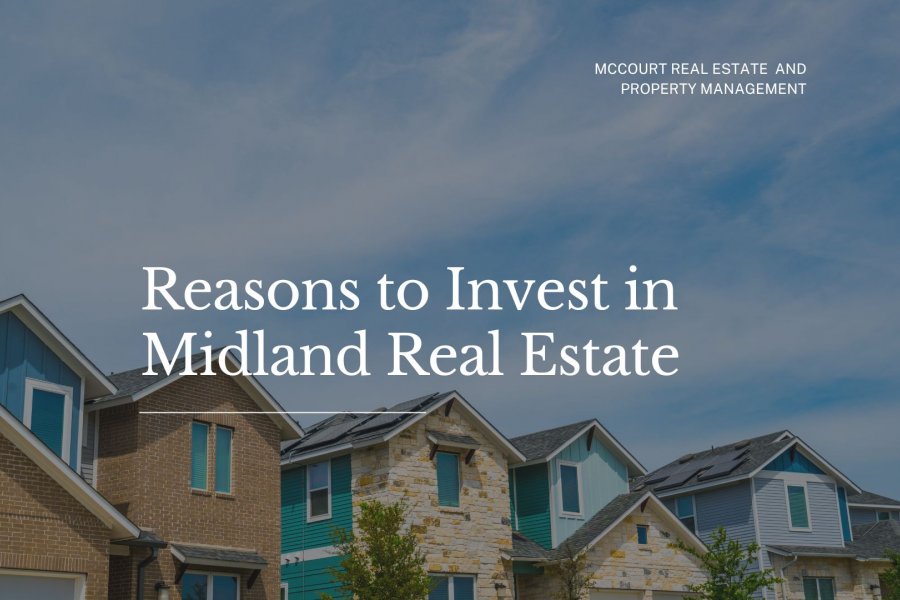 Are you looking to invest in Midland County real estate? Real estate investments can be a great way to build wealth over time. It allows for steady cash flow from monthly rental income and often comes with the added benefit of property appreciation rates. This means that if you purchase your property at a lower price, you may be able to sell it at a higher price in the future. Historical data shows there are tax benefits as well.
Midland, Texas, is an ideal location for investing in real estate. Located on the edge of the western plains and in the middle of the lucrative Permian Basin, Midland provides investors with unique opportunities to take advantage of a diverse and growing economy. From oil and gas to retail, healthcare, and education, the city and all of Midland county is an excellent choice for many investors.
The real estate market in Midland is booming, as the city has experienced consistent population growth over the past decade. Low unemployment and a healthy job market provide plenty of potential renters who can help you turn your investment into a profitable venture.
Keep reading to hear from the experts at McCourt Real Estate & Property Management about some of the top reasons to buy an investment property in Midland.
Why Invest in Midland, TX Rental Properties
With strong job growth and a booming housing market, Midland is quickly becoming one of Texas's most desirable areas for real estate investments. Let's have a look below at some of the factors that make this area so good for property investors from current to historical data.
1. Strong Local Economy
Midland boasts a strong local economy and is known for its low unemployment rate. On January 20, 2023, Midland again reported the lowest unemployment in the state at 2.6%. With plenty of local businesses and international companies, the region has a vibrant and diverse business sector with multiple investment opportunities and a reasonable average price.
Furthermore, Midland is home to multiple colleges and universities where students can obtain the necessary qualifications to work within the various industries including two-year, four-year and graduate degrees as well as technical schools including a highly rated Aviation Mechanic Training Program offered by Midland College.
Additionally, the area boasts a favorable tax environment which encourages businesses to set up shop in Midland and contribute to its economic growth. The local Chamber of Commerce stands ready to assist business owners and the University of Texas Permian Basin hosts the Office of Innovation & Commercialization, located at the Center for Energy and Economic Development.
The Small Business Development Center is available with Technology Transfer, Startup, Industry Collaboration and Product Development Support Services to ensure that this area will always be on the cutting edge of development. In addition, Midland International Air and Space Port is one of only four Space Ports in the entire state.
The region is well-connected to other parts of the US via air and road transportation links, making it easy for investors to access markets outside Midland. The average price of rent also makes it livable.
2. Tourism
The city is home to a range of cultural attractions, such as Midland Community Theatre, Wagner Noel Center Performing Arts Center, Midland-Odessa Symphony and Chorale, museums, galleries, and historical sites. Midland offers plenty of shopping opportunities, from boutique stores to big-name retailers. The area is also known for its many festivals and special events that attract visitors from far and wide.
Astound Stadium and Momentum Bank Ballpark are the home of three professional sports teams: Midland Rockhounds Baseball, West Texas United Sockers Soccer and the West Texas Drillers Football semi-professional teams. Of course, with these wonderful facilities available there are many tournaments for high school teams and various playoffs, track meets and tournaments are held for teams coming here from across the nation!
Midland has a lot to offer tourists, making it an ideal place for vacationers and investors. Tourists can enjoy a wide variety of activities throughout the year, with plenty of opportunities for sightseeing and exploring the area's natural beauty. Outdoor recreation is plentiful in Midland.
3. Great Local Climate
Midland's local climate is an important factor in why people invest in the area's real estate. The semi-arid climate means that temperatures stay fairly comfortable most of the year, with hot summers and cool to mild winters. This is great news for property owners as it allows them to enjoy a comfortable living environment all year round!
The low humidity makes it easier to cool off on hot summer days and can help you save money on energy bills. For those looking for a great place to invest in real estate, Midland could be a perfect choice. With its great local climate, it's no surprise that more and more people are choosing this area for their property investments.
Want Help Investing in Midland Real Estate?
4. Affordable Cost of Living
While Midland has all the amenities of a big city, its cost of living is much more affordable than in other cities with the average price of rent being lower than the national average. This makes it easier to invest in properties that have the potential for growth and make good returns on your investment.
The fact that Midland has a low cost of living means that rental prices remain competitive, making it easier for investors to profit from their investments. It's also a likely place for students due to the low living costs and proximity to Midland University.
Many potential students verify enrollment eligibility and local cost of living as factors in their decision of where to study. If they verify enrollment eligibility and find a good place to live, they're likely to stay as a long-time tenant. Apart from having to verify enrollment eligibility, they'll be looking for a great rental, and that's where landlords thrive.
School data provided is a big part of the decision, but having a few extra square foot in their apartment wouldn't hurt their decision to go for your rental. As well, if they're a current student, school data provided such as if they used to live in residence may help you vet the possible tenant. Whether school data provided an answer or not is down to each tenant, but knowing they're a student can be a big plus.
Additionally, the city has abundant natural resources and a strong economy, which makes real estate investment an attractive option for potential investors. With its low cost of living and great potential for growth, Midland is a great area for real estate investment.
5. Landlord-Friendly Laws
The state of Texas is generally known for its pro-landlord laws, and Midland has some of the best regulations in the country. For instance, tenant evictions are usually much less expensive and faster than in other states. Landlords also have strong legal rights to collect rent and can also enforce limits on tenant behavior to protect their property.
Landlords are allowed to check on their properties to make sure all is well. This makes it easier for landlords here to take proactive steps to maintain their properties. All these advantages make Midland a great place for rental property investments and give landlords peace of mind that their investment is safe and secure.
6. Hot Real Estate Market
Midland's hot real estate market is one of the reasons that make it an attractive investment destination. The city is blessed with a robust job market, healthy population growth, and increasing migration of educated and skilled workers from other parts of the country.
All these factors have led to a surge in demand for housing and commercial spaces in Midland, thus pushing property prices up. As a result, investors are flocking to the city in search of lucrative returns on their investments. With its rising housing market and favorable economic conditions, Midland is an ideal destination for those looking to make a profitable real estate investment.
The Bottom Line: Why Invest in Midland, TX Real Estate
Midland, Texas, is an excellent place for real estate investments. With its strong local economy, hot real estate market, and landlord-friendly laws, it promises big returns on your investments.
The city has all the amenities of a big city while maintaining a small-town charm with friendly people and little traffic. It has numerous recreational activities, such as golfing and tennis, hiking and biking, which makes it an attractive destination for tourists.
The real estate market in Midland is strong, with home values increasing steadily over the years. There are plenty of affordable housing options available in Midland, making it an attractive option for investors. Additionally, the rental market is strong, and there are many tenants looking to rent homes in the area.
McCourt Real Estate & Property Management can help with everything from purchasing a property to managing tenants. Contact us today and learn more about our real estate and property management services!