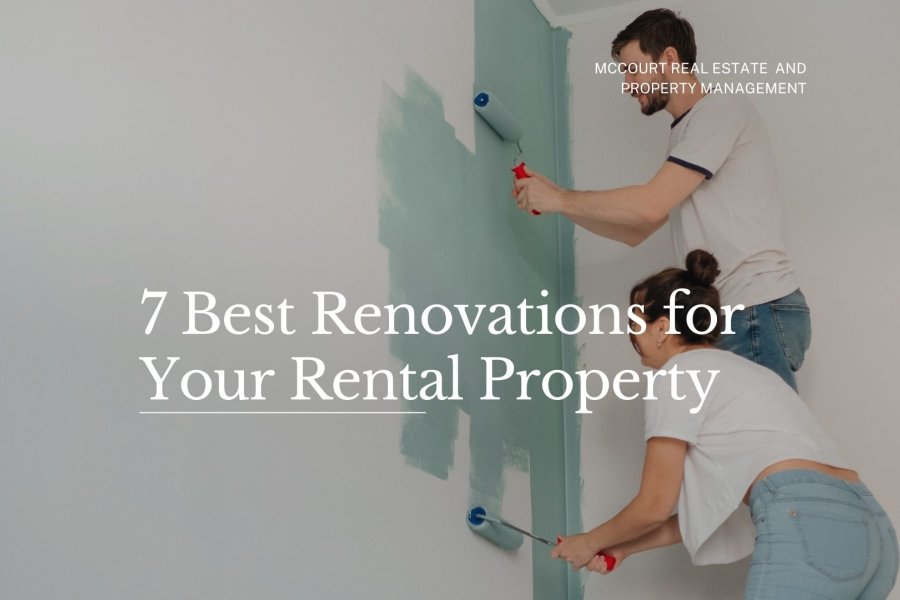 Have you ever wondered which renovations could improve the appeal and value of your rental property? Welcome, savvy landlords, to a space curated just for you, where we'll cover what renovations and upgrades can enhance your rental property.
Navigating through the myriad of upgrade options can be a daunting task, but that's why we're here. This article will cover the seven best renovations that can not only elevate the aesthetic of your rental but can also give you an improved return on investment. Keep reading to learn more!
7 Upgrades to Elevate Your Property
Let's take a look at various renovations that you can do to make your rental property stand out.
Fixing Up the Kitchen
The kitchen is more than just a place to cook; it's a communal hub where memories are forged. Renovating your kitchen can be a big improvement for your property, especially when you consider the trifecta of functionality, durability, and aesthetic appeal.
Opt for a neutral color palette and materials that resist wear and tear so that the kitchen remains a timeless, appealing space for tenants over the years.
Modern tenants are often looking for spaces that combine contemporary conveniences with stylish design. Investing in quality cabinetry ensures longevity, while sleek appliances promise energy efficiency and user-friendly experiences.
In Midland, TX, offering a refrigerator in your rental property is very important in getting it leased quickly, at the best possible price. A lack of a refrigerator slows the leasing process considerably.
Moreover, thoughtful touches like a tile backsplash or under-cabinet lighting can add a dash of luxury without a hefty price tag, ensuring your property remains a hot pick among the competition.
Upgrading the Bathroom
The bathroom is another place you might want to consider updating. Landlords, your focus here should be on marrying practicality with a touch of luxury. Start with the essentials by making sure the plumbing is in peak condition.
Opt for fixtures that promise water efficiency to help reduce the cost of utilities. When it comes to aesthetics, consider incorporating elements like frameless shower doors or a floating vanity to create a modern, spacious feel.
Tiles with easy-to-clean surfaces, and perhaps a hint of texture or pattern, can add visual interest without compromising on maintenance. Remember, a bathroom that promises reliability, comfort, and a dash of luxury can be a pivotal factor in a tenant's overall happiness and can encourage them to stay at your property long-term.
Improve Your Curb Appeal
The exterior of your property is a silent communicator with prospective tenants, signaling the care and quality they can expect inside. Investing in curb appeal goes beyond mere aesthetics; it's about crafting a welcoming atmosphere from the get-go.
Begin with landscaping, ensure lawns are neatly manicured, and consider incorporating perennial plants that promise year-round visual appeal with low maintenance. Pay attention to the entryway – a sturdy, stylish door, clear pathway, and adequate lighting not only enhance safety but can also be very welcoming.
Put in New Floors
The type of flooring you choose should be able to endure daily wear and tear while still looking good. Choosing the right flooring is a balance between aesthetic appeal, durability, and being easy to clean. Avoid wood laminate planking. The first leak that occurs will cause the wood to swell up and then the floor is ruined.
Luxury vinyl plank flooring, for instance, offers the visual appeal of hardwood without the susceptibility to damage and high maintenance. Alternatively, ceramic tiles in high-traffic areas like the kitchen and bathroom ensure easy clean-up and resistance to water damage.
Consider carpets in bedrooms for a cozy, warm ambiance. If you do opt to add carpeting, make sure you select a choice of durable, easy-to-clean option. A well-chosen floor not only elevates the aesthetic appeal of your property but also means less maintenance for you in the long run.
Fresh Paint and Small Fixes
A fresh coat of paint can do a lot for your property, instantly revitalizing and brightening the space. When selecting colors, lean towards neutral and light shades like whites, greys, or beiges, which tend to appeal to a wider audience and make a room look more spacious.
Don't forget to address small wear and tear issues like scuffs, leaks, or loose fixtures. These seemingly minor details can significantly influence a tenant's perception of how well you manage your property.
Additionally, updating simple details like doorknobs, light fixtures, and window treatments can subtly elevate the aesthetic appeal of the property without a hefty investment, ensuring your rental space remains fresh, modern, and inviting.
Make a Big, Open Space
An open floor plan is synonymous with modern, spacious living, offering tenants the flexibility to curate their living spaces. This renovation might involve removing non-structural walls to create a seamless transition between living, dining, and kitchen areas.
This not only enhances the visual spaciousness of your property but also contributes to better light flow and ventilation. It can make smaller properties feel larger and more inviting, potentially attracting a wider pool of prospective tenants and ensuring your property remains competitive in the market.
Add Amenities
In a competitive rental market, amenities can be the cherry on top that distinguishes your property from all the available options. Consider what new tenants might be looking for, like a refrigerator or a small storage building.
Depending on your property and budget, more extensive amenities like a small gym, communal outdoor spaces, or secure bike storage can also be significant draws.
Always ensure that the amenities you choose to incorporate align with the needs and wants of your potential tenants, ensuring that your investment is strategically allowing you to maintain a high occupancy rate.
Final Thoughts
Landlords, your journey through rental property renovation, from kitchens to added amenities, is a strategic move toward ensuring tenant satisfaction and maximizing returns. While the path to optimal renovation might seem daunting, remember that there are professionals here to help!
Consider partnering with McCourt Real Estate & Property Management, where a dedicated team awaits to streamline your endeavors, ensuring your property stands out and prospers in the bustling rental market. Here's to making smart, successful property transformations together!