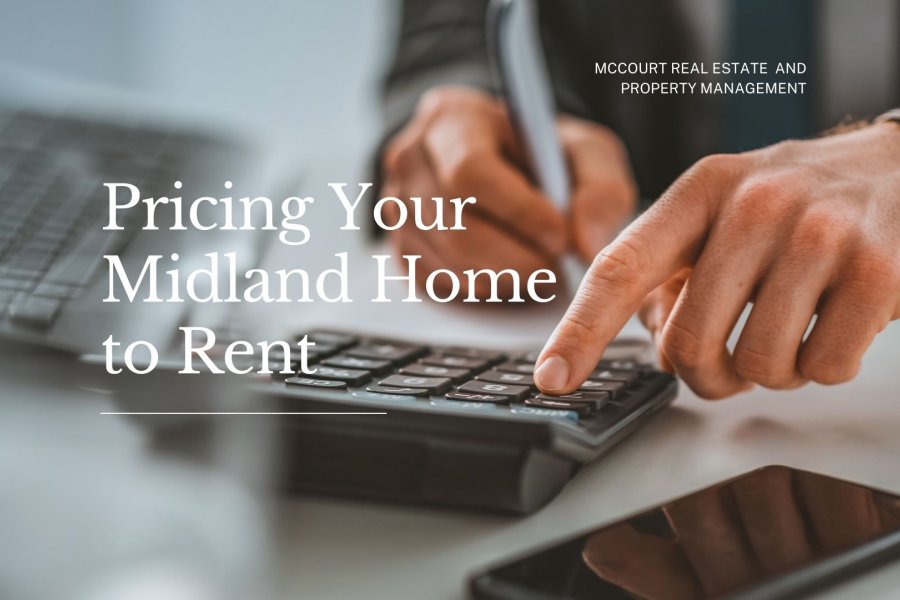 Part of marketing your Midland rental home is coming up with the right rental price. You need to take into account a number of factors before you decide how much to charge for rent.
It shouldn't be so high that you drive away potential tenants. But it shouldn't be so low that you can't cover all the costs associated with owning a rental property. Keep reading to learn about pricing your home to rent in Midland!
Factors for Pricing Comparison
To set the right rental rate, take time to study your competitors. Ensure you pick ones that have similar property features to your Midland rental home. You can start comparing based on:
1. Neighborhood
As you look for comparable properties, make sure they're in the same neighborhood as your property or a very similar area. Neighborhoods can differ in pricing due to location, reputation, and amenities. For instance, a comparable property might be rented for a higher price because it's located near schools or shopping centers.
2. Number of bedrooms and bathrooms
Only compare your Midland property to rental homes that provide the same number of bedrooms and bathrooms.
3. Single-family homes vs multi-family homes
Remember that single-family homes can fetch a higher rental price compared to multi-family homes since it offers more privacy to the residents.
4. New construction vs old construction
If your Midland rental property construction was completed just a month ago then you can assign a higher rental fee. Renters are open to paying more for new rental units or newly-renovated ones.
Sourcing Comparables
As a landlord, you don't have a shortage when it comes to sources for comparison of rental homes. You can check the following sources:
1. Online ads
Check the popular listing sites and select a few properties to track. Note which ones tend to get occupied quickly and which ones spent weeks on the market. Learn which ones adjusted their rental prices over time.
2. In-person
You can expand your research offline by scheduling a property tour in person. This method allows you to make realistic in-person evaluations. It also gives you a chance to ask the landlord about the level of interest shown by prospective renters.
3. Property management company
Given the broader exposure of property management companies, you can count on them to assign a far more accurate rental fee than you. They can conduct a reliable rent price analysis of your Midland rental home.
What Price Adjustments Should Be Dependent On
You can optimize your rental earnings by assigning rent based on the attractive features your property offers. This is especially important if you own more than one property or rent out multiple units because assigning a flat rate can put you at a disadvantage.
Here are important things to assess:
What renovations have you done to your property?
Potential tenants often seek rentals with high-quality amenities, such as parking spaces, hardwood flooring, energy-efficient appliances, outdoor spaces, and more storage features.
What is the size of your Midland rental property?
The more square footage your property has, the greater chance that tenants will pay more.
Profitable Earnings Correlate with Accurate Rental Price Setting
After collecting rent and paying off the operation costs of your property, you still want to end up with a positive cash flow. Even if you're paying for property maintenance and repair expenses, and even your mortgage, you should still earn a profit.
While having substantial mortgage loans can lower your profits and may also take time to earn a higher income, it doesn't mean you have to be losing money. Check what benefits you might be able to take advantage of, like tax deductions. If you're not getting any rewards from your Midland real estate investment, then it's possible that you may have overinvested.
Viewing Requests from Potential Renters
You can tell if you assigned the right rent for your property from how many people are interested in it. If there are few requests for property tours, then you may want to look into adjusting the rental rate.
You want to make sure that the rental rate you assigned justifies the features you offer. Is your unit located in an accessible area? Do you have outstanding amenities in contrast to what your competitors offer? If not, you should find a way to increase engagement, like adding value through property upgrades or adjusting the rental price.
Market Demand Drives Accurate Rental Pricing
You might think once you've assigned a rental fee, you won't need to think about it anymore. However, you should revisit the rental price of your property from time to time. It's important to check the economic conditions and make adjustments as the market demand fluctuates.
Be aware of the impact of season changes which can result in peak rental demand. You should also learn about new infrastructures being built in your neighborhood. Inflation can also affect rental demand.
If the economy is in a recession and inflation is high, people are likely to scale down their lifestyles and rent smaller units. But if the economy is on an upswing, then people are likely to sign lease agreements for larger spaces.
If you're quick to make rental price adjustments, you can limit tenant turnover and property vacancies. You want to attract long-term tenants since vacant units lead to more maintenance costs, as well as marketing expenses.
Bottom Line
There are several methods you can use in rent price setting, such as comparing property types and features. You can also perform research online and offline. But if you have limited time to attend to landlord tasks and evaluate the rental prices regularly, you can opt to hire a reliable property manager.
If you're looking for someone to manage your Midland rental home, contact McCourt Real Estate & Property Management today! We're the leading property management company in the Midland area.